I never thought of the possibility of making cream cheese at home until I came face to face with the much discussed cream cheese shortage of 2021. 
Because of this shortage, Kraft, the maker of Philadelphia cream cheese, was offering $20 to people to find an alternative to using cream cheese around the holidays. Twenty dollars not to make your favorite cheesecake?
Well, I thought, there must be a way to make cream cheese at home. You know, take things into our own hands and bypass the shortage altogether.
And, lo and behold, there is!
To get started, I relied on two cream cheese recipes: Gemma's at Bigger Bolder Baking and Rifika's at Rafika's Kitchen.  By taking something from each of these recipes, I was able to get a nice whipped homemade cream cheese.
But would it taste like Philadelphia cream cheese? — that was my biggest concern. Because some things are just so seared into our tastebuds as the standard, that sometimes homemade doesn't seem to live up to store-bought.
So How Does It Taste?
It's still delicious, but it tastes much more like fresh milk than the original. And it doesn't have as much acidity as the Philadelphia — it's missing that tanginess that I associate with cream cheese. I'm guessing that if it were made with vinegar rather than lemon juice it would have a more pronounced tanginess to it.
It's also less salty, so you could bump up the salt content a smidgen to get a more pronounced salt flavor.
In terms of consistency, or texture, it's more grainy than the original. But, all-in-all, still delicious and well worth making if you're experiencing a cream cheese shortage!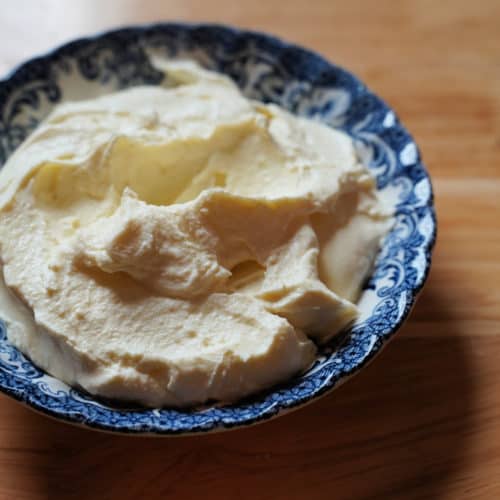 Homemade 4-Ingredient Cream Cheese
Here's how you can make fresh cream cheese at home.
Ingredients
4

C.

whole milk

3

tbsp.

fresh lemon juice

3/4

tsp.

Kosher salt

1

tbsp.

butter
Instructions
In a large saucepan bring the milk to a boil.

Turn off the heat and add the lemon juice in 1 tablespoon at a time stirring between additions. The milk will begin to curdle and separate.

When the whey is clear, with a slotted spoon strain the curds into a sieve lined with several layers of cheesecloth. Drain for 2-3 minutes.

Place the hot curds to the food processor, add salt. Blend for 1 minute.

Scrape the sides and the bottom of the bowl with a spatula, add the butter. Blend for 3-4 minutes or until smooth.

Serve immediate or store chilled in an air-tight container for 3-5 days.
Nutrition
Calories:
115
kcal
Carbohydrates:
8
g
Protein:
5
g
Fat:
7
g
Saturated Fat:
4
g
Polyunsaturated Fat:
1
g
Monounsaturated Fat:
2
g
Trans Fat:
1
g
Cholesterol:
21
mg
Sodium:
324
mg
Potassium:
216
mg
Fiber:
1
g
Sugar:
8
g
Vitamin A:
318
IU
Vitamin C:
3
mg
Calcium:
179
mg
Iron:
1
mg