Jiggly Japanese cheesecake — by now the stuff of legends. A confection with a sweet fluffy crumb that defies gravity. A cottony "cheesecake" made with eggs and cream cheese that is a delight to both eat and hold.
So What Is It?
For anyone only familiar with the classic New York-style cheesecake, this dessert will be a bit of a surprise. It's kind of a loose interpretation of cheesecake in that it's really a chiffon, or kind of a foam-style cake: fluffy, tall, and very, very jiggly.
Though this cheesecake originated in Japan, due to its happy jiggliness, it quickly traveled the globe. I've based my recipe off the BuzzFeed video where they attempted to make it five different times in order to get the ultimate DIY jiggly cheesecake.
And fair warning: this recipe is quite involved and NOT FOR THE FAINT OF HEART.
But if you think you are up for the challenge, let's get baking!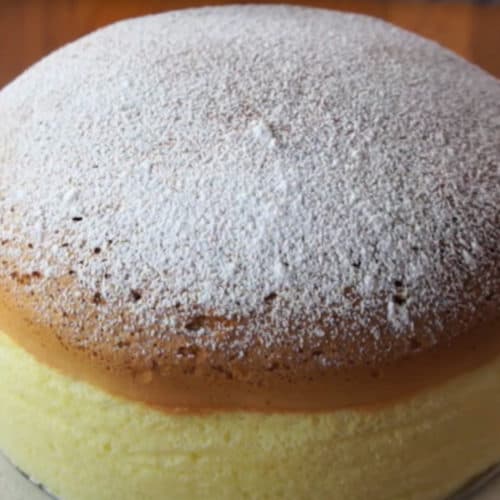 Japanese Jiggly Cheesecake
A cottony, jiggly cheesecake from Japan.
Equipment
8 1/2 inch springform pan

Conventional oven
Ingredients
130

ml

milk

100

g

butter

200

g

cream cheese

13

egg whites

6

egg yolks

60

g

flour

60

g.

corn starch

260

g

sugar

1/4

tsp

cream of tartar

1

tsp

vanilla
Instructions
In a medium saucepan, melt the cream cheese, butter, and whole milk over low heat. (Before adding, you can cut butter and cream cheese into small cubes to help speed the process.) Set aside when completely melted.

Separate your eggs. (You will get better results if eggs are at room temperature.) Set aside six of the yolks and all of the whites for the recipe.

Line your spring-form pan with parchment paper. Make sure to wrap the bottom with foil to prevent any leakage.
To Make the Meringue
Using a stand mixer, pour your thirteen egg whites into the bowl

To help with the stability of the foamy peaks, add a ¼ t. of cream of tartar to the egg whites.

Mix on high for two minutes.

Gradually add the sugar. (This process should take about five to seven minutes.)
To Make the Cream Cheese Layer
Take the melted cream cheese mixture, and add it to the egg yolks.

Whisk together until well incorporated.

Sift in the flour, followed by the corn starch.

Add one teaspoon of vanilla.
Finish
At this point you will want to start boiling some water for a bain-marie, or water bath which will keep the cheesecake from cracking.

Combine the meringue into the flour and egg mixture, flipping over and under, over and under using a wide spatula.

Place resulting batter into the spring-form pan. (Give it a couple of swift taps on the side to get it to settle.)

Now place the spring-form pan with cheesecake mixture inside a second, larger pan.

Add hot water to the bottom pan until it is half-full.

Bake for 25 minutes at 320 degrees.

Reduce temperature to 280℉ and cook for another 55 minutes. (I added an additional 30 minutes of baking time because mine wasn't finished.)
Nutrition
Calories:
437
kcal
Carbohydrates:
48
g
Protein:
10
g
Fat:
23
g
Saturated Fat:
13
g
Trans Fat:
1
g
Cholesterol:
202
mg
Sodium:
265
mg
Potassium:
178
mg
Fiber:
1
g
Sugar:
35
g
Vitamin A:
869
IU
Calcium:
68
mg
Iron:
1
mg
When your jiggly cheesecake comes out of the over, it should look like this:
Just take it out of the larger pan, remove your foil, unlock the spring, remove the parchment wrapping, and you should have a beautiful, jiggly, cotton cheesecake.
At this point you'll want to dust it with some powdered sugar to dress it up a little.
How do I Eat It?
Funny question, right?
If you just can't wait, I've heard that some people eat this cheesecake warm, but allowing it to cool completely — at least four hours — should allow the flavors to "ripen."
So What Does it Taste Like?
I tried it both ways: just out of the oven, and then again after it had cooled for six hours.
Just out of the oven it is warm and fluffy, the mouthfeel much like a custard with its pronounced eggy flavor. It's sweet without being overly sweet, and it has a good cream cheese flavor as well.
Having said all that, it's not overly heavy — not at all like a New York-style cheesecake. Instead, it is much more like a chiffon, or an angel food cake: fluffy, light, airy, foamy. But much better than an angel food cake!
I think this jiggly cake would be amazing with ice cream and/or fresh fruit — blackberries, strawberries, blueberries, whatever's in season.
Cooled completely the only drawback is that it doesn't really jiggle. So if you want that aspect of it to be part of the show, then I'd suggest bringing it to the table warm.
But if it's the taste you're after, then I'd definitely let it cool. The pronounced egg flavor has definitely mellowed, leaving you to taste more of the butter and the sweetness. And the texture is phenomenal. It's moist, yet it doesn't feel or taste greasy at all. And has a really nice soft, spongy texture.
If you need an analogy, it tastes like Sara Lee pound cake. Same buttery richness — exact same flavor.
This cake is lighter and fluffier, and of course it doesn't come frozen — you have to put in a lot of effort — but that's what this jiggly cake tastes like to me — Sara Lee pound cake.
So last words?
Make sure you have an oven thermometer! If you don't, go to the hardware store and buy an inexpensive one that you can put inside your oven. Use that to take the temperature of your oven. Don't trust the dial or the digital numbers that are on your display because oftentimes they are incorrect.
If you bake this at the correct temperature, and use a skewer to make sure that it's done, you will have more chances of success.
You can watch me baking and tasting my jiggly cheesecake here:
Happy baking, lovelies!