First of all, century egg or thousand-year old eggs 皮蛋 as they are sometimes called are not one hundred years old. They are simply eggs that have been treated in a basic solution that dramatically transforms them into a striking accompaniment to jok or savory rice gruel. My first attempt at homemade century eggs was an epic failure, so victory this round was especially sweet.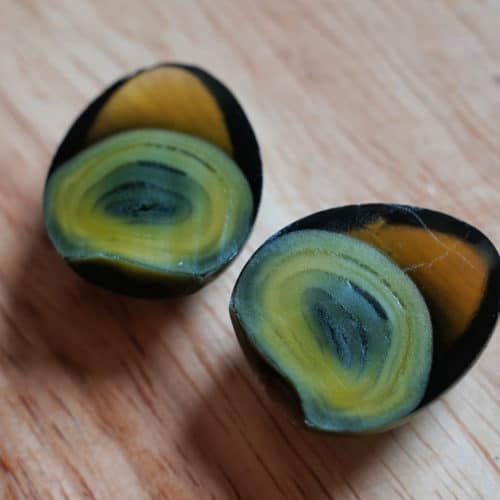 100 Year-Old Quail Eggs
Here's how you can create century eggs at home.
Equipment
glass container

large ceramic or Pyrex mixing bowl

rubber gloves

safety glasses

kitchen scale
Ingredients
24

quail eggs

330

g.

water

1

g.

pu-erh tea

16

g.

Kosher salt

14 g.

food-grade sodium hydroxide

lye

0.7

g.

food-grade zinc oxide
Instructions
In a small saucepan, bring half of the water to a boil.

Turn off the heat and add pu-erh tea. Allow to steep for 20 minutes.

Transfer the tea to a medium-sized ceramic or glass bowl. Wear gloves and safety glasses. Add the salt, lye, and zinc, then stir to dissolve. Add the remaining water. Cover and let sit overnight.

The next day, wearing gloves, gently add the eggs to the brine. Cover the jar and soak the eggs for 12 days.

Remove the eggs from the brine and briefly rinse off the shells with water. Allow the eggs to dry for 1 hour.

Place the eggs into a zippered bag. Place the sealed eggs into a light-proof container. Store in a cool, dry, dark place for 5 weeks.

Bring a pot of water to a boil. Fill a bowl with ice cubes and water.

Place a few eggs at a time into rapidly boiling water and boil for 1 minute. Do not place too many eggs in at once.

Remove the eggs from the boiling water and cool in the ice bath.

Peel and serve in a bowl of jok (rice porridge).
Nutrition
Calories:
14
kcal
Carbohydrates:
1
g
Protein:
1
g
Fat:
1
g
Saturated Fat:
1
g
Cholesterol:
76
mg
Sodium:
13
mg
Potassium:
12
mg
Sugar:
1
g
Vitamin A:
49
IU
Calcium:
6
mg
Iron:
1
mg